Press Releases
EIZO Releases Its First Large Screen 4K UHD Monitor with 3D Image Display for Endoscopy and the Operating Room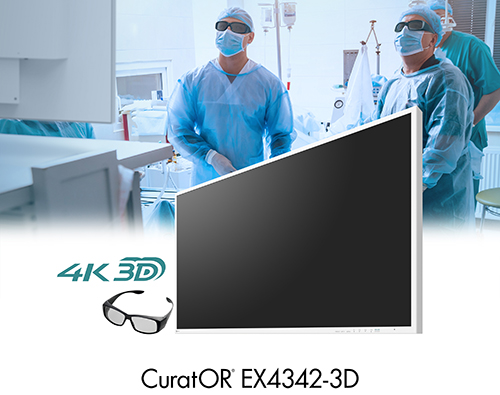 Rülzheim, Germany, November 2, 2023 – EIZO GmbH today announced the CuratOR EX4342-3D – EIZO's first large screen 4K UHD (3840 x 2160 pixels) monitor with 3D image display for endoscopy, microsurgery and other high-precision procedures. Featuring a large, 43-inch screen, the monitor can also be securely mounted on medical carts for safe operation.
Patient-centered minimally invasive surgical techniques are becoming increasingly important to facilitate safe and efficient procedures that reduce burden on surgeons and save hospitals valuable time. The EX4342-3D supports stereoscopic image display in 4K resolution, providing both detail and enhanced depth perception for high-precision procedures. Traditional, smaller monitors are typically inadequate when multiple people in the OR need a clear view of the screen. The EX4342-3D's large 43-inch screen provides ample viewing space for the surgical team to view images in a streamlined scenario.
In the OR, large screen monitors are typically mounted on the wall or attached to ceiling fixtures due to their size and weight. The EX4342-3D's weight of only 17.6 kg and VESA standard compliance allow it to be mounted directly on medical carts, providing flexible installation options to suit the target environment.

The EX4342-3D's resolution of 3840 x 2160 pixels, which is four times that of Full HD, allows medical personnel to view images from endoscopes and surgical microscopes on a larger screen area, while maintaining the depth of detail provided by the 4K resolution.

The EX4342-3D achieves a flicker-free 3D image display even at low frame rates. This facilitates focused viewing that is easy on the surgeon's eyes.

During procedures, operating surgeons need to be able to clearly distinguish between different shades of color. The EX4342-3D supports the 4K video standard BT.2020 to ensure that subtle nuances between reds and yellows captured by a BT.2020 compatible camera are discernible on the screen.
The EX4342-3D supports various video input and output signals. Via BNC (12G-SDI), DisplayPort or HDMI, images of different modalities can be transmitted in up to 4K UHD at 60 frames per second with a single cable. The BNC (12G-SDI) connection also provides stable transmission even over a distance of 30 meters.
Additional Features
High maximum brightness level of 700 cd/m2, high contrast ratio of 1000:1
HDR (High Dynamic Range) with HLG and PQ gamma settings
Picture-in-Picture and Picture-by-Picture for simultaneous display of two signal sources
Auto Input function for automatic switching to another signal input when the selected input signal is no longer detected
IP45 (front) and IP32 (whole monitor) for protection against foreign objects and water splashes
Visitors to Medica 2023, November 13-16 in Düsseldorf, Germany, can see the new monitor at the EIZO booth, Hall 10, booth number H41.
Availability
The CuratOR EX4342-3D will begin shipping in January 2024. The date of availability may vary by country or region. Contact the nearest EIZO group company or distributor for details.

Product Information
The below link will redirect you from the EIZO global website to the EIZO OR website.
About EIZO GmbH
EIZO GmbH is based in Ruelzheim (Pfalz), Germany and is a leading manufacturer of visual display solutions for medical imaging applications. The company portfolio includes a wide range of monitors, video management systems and related accessory products. EIZO GmbH is a group company of EIZO Corporation, a global leader offering total imaging solutions with a range of monitors, software, video capture, processing and distribution solutions, cameras, and advanced integrated technologies to meet the specialized needs of customers in business, creative fields, healthcare, air traffic control, maritime, security & surveillance, and more.

For more information, please contact:
EIZO GmbH
Carl-Benz-Str. 3
76761 Ruelzheim
Germany
Tel: +49 7272 9850-0
https://www.eizo-or.com
dt-contact@eizo.com

EIZO, the EIZO logo, and CuratOR are registered trademarks of EIZO Corporation in Japan and other countries. DisplayPort is a trademark of the Video Electronics Association in the United States and other countries. The terms HDMI and HDMI High-Definition Multimedia Interface, and the HDMI Logo are trademarks or registered trademarks of HDMI Licensing, LLC in the United States and other countries. All other company names, product names, and logos are trademarks or registered trademarks of their respective owners.