Press Releases
EIZO Launches Its First 4K Medical Recorder for Archiving Video of Endoscopy, Microsurgery, and Other High-Precision Procedures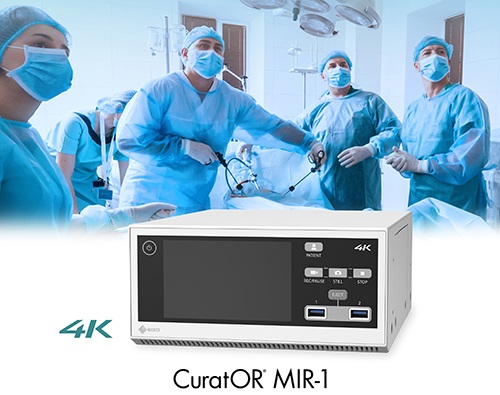 Hakusan, Japan, November 9, 2023 – EIZO Corporation (TSE: 6737) today launched the CuratOR MIR-1, its first medical imaging recorder for archiving video and still images captured by endoscopy, microsurgery, or surgical field cameras in high-quality 4K UHD resolution (3840 x 2160 pixels) and 60 fps (frames per second).
Surgeons are uniquely trained and qualified to perform necessary, life-saving procedures. With evidence suggesting a growing shortage of surgeons compared to the increasing demand for healthcare services, it is becoming increasingly important to facilitate medical education, training, and research. In response, EIZO has developed its first medical recorder for the operating room.
The MIR-1 can natively record video at 4K UHD (3840 x 2160), as well as scale down to Full HD (1920 x 1080) resolution. The BNC (12G-SDI) and HDMI® video input connectors support 4K UHD video signals at 60 frames per second for high-quality video from various imaging modalities. It can also capture and store still images in addition to video.

The MIR-1 is equipped with a high-speed SSD (solid state drive) that is highly robust and resistant to vibration and shock. With a large capacity of 2 terabytes, up to 175 hours of 4K video or 885 hours of Full HD video can be stored in its internal memory*.

The MIR-1 supports the H.264 (AVC) and H.265 (HEVC) compression standards. H.264 offers a wide range of compatibility with devices and browsers, and H.265 is a newer standard that offers higher compression rates without sacrificing image quality. Operators can select the compression standard based on the playback or streaming needs of the recorded surgical video.

Two USB 5Gbps ports on the front allow operators to record to external media, such as a USB HDD (hard disk drive) or portable USB SSD, in addition to the internal storage. The MIR-1 also allows data transfer from internal storage to external media. This is useful for reviewing the video in conference rooms or editing for educational use or other purposes.
Details for each recorded surgical procedure, such as patient name and ID, can be registered to the MIR-1 for organized management of video files. The MIR-1 can also register patient ID information from barcode readers.

A recording indicator on the front panel allows the operator to confirm at a glance that the surgical procedure is being recorded. In addition, when used with EIZO's CuratOR EX-Series of surgical monitors, the MIR-1's recording status can be displayed on the monitor, allowing the surgeon to check it without looking away from the screen.

The CuratOR MIR-1, when used in conjunction with EIZO's CuratOR SC430-PTR surgical field camera and EX-Series surgical monitors, provides hospitals with a complete solution for visualization in the OR. This "Imaging Chain" provides high quality and reliable capture, display, and recording of surgical procedures.
EIZO will be showcasing the MIR-1 at Medica 2023 from November 13- 16 in Düsseldorf, Germany, hall 10, booth 10H41.

Availability
The CuratOR MIR-1 will begin shipping in August, 2024. The date of availability may vary by country or region. Contact the nearest EIZO group company or distributor for details.

Product Information
The below link will redirect you from the EIZO global website to the EIZO OR website.
About EIZO
EIZO (TSE:6737), which means image in Japanese, is a visual technology company that develops and manufactures high-end visual solutions to enrich people in their professional and personal lives. EIZO offers total imaging solutions with a range of monitors, software, video capture, processing, and distribution solutions, cameras, and advanced integrated technologies to meet the specialized needs of customers in business, creative fields, healthcare, air traffic control, maritime, security & surveillance, and more. Headquartered in Hakusan, Japan, EIZO has R&D and manufacturing facilities in Japan, China, Germany, and the United States, and representation in more than 120 countries.
* Recording time varies depending on recording conditions.
EIZO, the EIZO logo, and CuratOR are registered trademarks of EIZO Corporation in Japan and other countries. All other company names, product names, and logos are trademarks or registered trademarks of their respective owners.